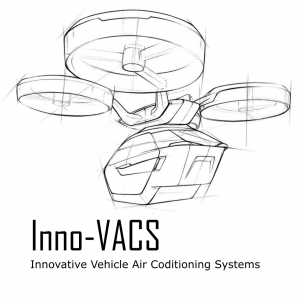 The evolution brought in the automotive sector by the development of electric mobility and self-driving vehicles will have a significant impact on the conception and design of cabin air conditioning systems. The InnoVACS project tackles the challenges of providing an optimal and sustainable cabin comfort in the innovative concept POP-UP, proposed by Italdesign.
The InnoVACS team explores the passive and active solutions applicable to climate control of the POP-UP concept. The innovative technologies for passive thermal control of the vehicle body (selective paints, high performance glazing, body insulation, etc.) have first been identified. Applicable alternative solutions for the air conditioning system have then been analyzed, considering both the production of heating and cooling and the air distribution aspects. The proposed solutions have finally been evaluated using the Amesim simulation software.
The impact of the proposed solution on the market of autonomous, self-driving vehicles has also been assessed.
Principal Academic Tutor
Marco Carlo Masoero, Department of Energy, Politecnico di Torino
Academic Tutors
Giulio Ceppi, Design Department, Politecnico di Milano
Marco Simonetti, Department of Energy, Politecnico di Torino
External institution
Italdesign S.p.A.
External Tutor
Ivano Panizzo, Italdesign S.p.A.
Team members
Francesco Pilosio [Team Controller], Mechanical Engineering, Politecnico di Milano
Enrica Raheli, Ingegneria Energetica e Nucleare, Politecnico di Torino
Daniele Ramirez, Mechanical Engineering, Politecnico di Milano
Federico Ribatti, Mechanical Engineering, Politecnico di Torino
Saverio Tavernese, Ingegneria Aerospaziale, Politecnico di Torino
Download the poster of the Project
Watch the video of the Project