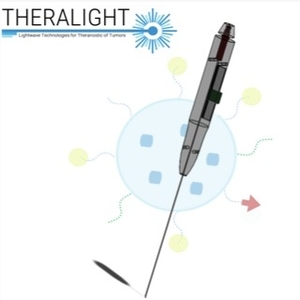 Thermal Ablation (TA) is a class of interventional techniques that deploy electromagnetic energy sources to treat malignant diseases by inducing thermal damage and, eventually, coagulation necrosis in tissues. Among similar techniques, laser thermal ablation (LTA) stands out as particularly promising.
The main limitations of LTA, however, are the restricted dimensions of the area ablated with a single fiber and the technical complexity of manually inserting the probe.
Theralight project aims at identifying a novel concept capable of overcoming the current LTA limitations.
Principal Academic Tutor
Guido Perrone, Department of Electronics and Telecommunications, Politecnico di Torino
Academic Tutors
Alfredo Cigada, Department of Mechanical Engineering, Politecnico di Milano
Alberto Vallan, Department of Electronics and Telecommunications, Politecnico di Torino
External Institutions
IHU- Institute for Image-guided Surgery- Strasbourg (France)
OPI Photonics S.R.L. – Torino
External Tutors
Andrea Braglia, OPI Photonics
Paola Saccomandi, IHU Strasbourg
Team members
Chiara Bregoli, Biomedical Engineering, Politecnico di Milano
Federica Buccino, Biomedical Engineering – Biomechanics and Biomaterials, Politecnico di Milano
Chiara Coletti, Biomedical Engineering (BTE), Politecnico di Milano
Chiara Di Vece, Biomedical Engineering, Politecnico di Milano
Davide Manzionna, Management Engineering, Politecnico di Milano
Elena Hilary Rondoni, Ingegneria Biomedica, Politecnico di Torino
Antonio Sindoni, Mechanical Engineering, Politecnico di Torino
Luca Viale, Ingegneria Meccanica, Politecnico di Torino
Download the poster of the Project
Watch the video of the Project