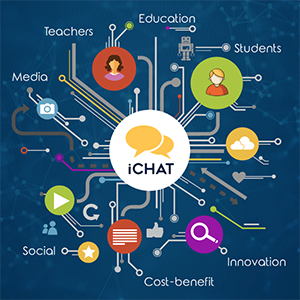 The CHECK project applies AI and cognitive technologies for creating a novel approach to development of smart chatbots.
Assuming that a large body of content exists, the iCHAT technology develops, in a sustainable manner, chatbots helping the user to efficiently use that body of content.
Two real-life applications are envisioned:
a) An Education-Bot assisting pupils working on improving their understanding of Mathematics
b) A Cultural-Bot, capable of engaging the user in a meaningful conversation about "Sala delle Asse", a room of the Sforza Castle in Milan decorated by Leonardo da Vinci and his workshop
Teachers, experts in cultural heritage and real-life users are involved in the project.
iCHAT develops a novel methodology for designing data-driven conversations, and an innovative technology based upon the features of WATSON, the AI environment by IBM.
Principal Academic Tutor
Paolo Paolini, Department of Electronics, Information and Bioengineering, Politecnico di Milano
Academic Tutor
Nicoletta Di Blas, Department of Electronics, Information and Bioengineering, Politecnico di Milano
External institution
IBM
External Tutor
Ing. Alessandro Faraotti, IBM
Ing. Fabrizio Renzi, IBM
Team members
Damla Ezgi Akcora [Team Controller], Computer Engineering, Politecnico di Torino
Andrea Belli, Management Engineering, Politecnico di Milano
Marina Berardi, Engineering And Management, Politecnico di Torino
Stefano Falletta, Physics Of Complex Systems, Politecnico di Torino
Luca Lodi, Computer Science And Engineering, Politecnico di Milano
Daniela Nossa Diaz, Design Sistemico, Politecnico di Torino
Filippo Vannella, Communications And Computer Networks Engineering, Politecnico di Torino
Download the poster of the Project
Watch the video of the Project