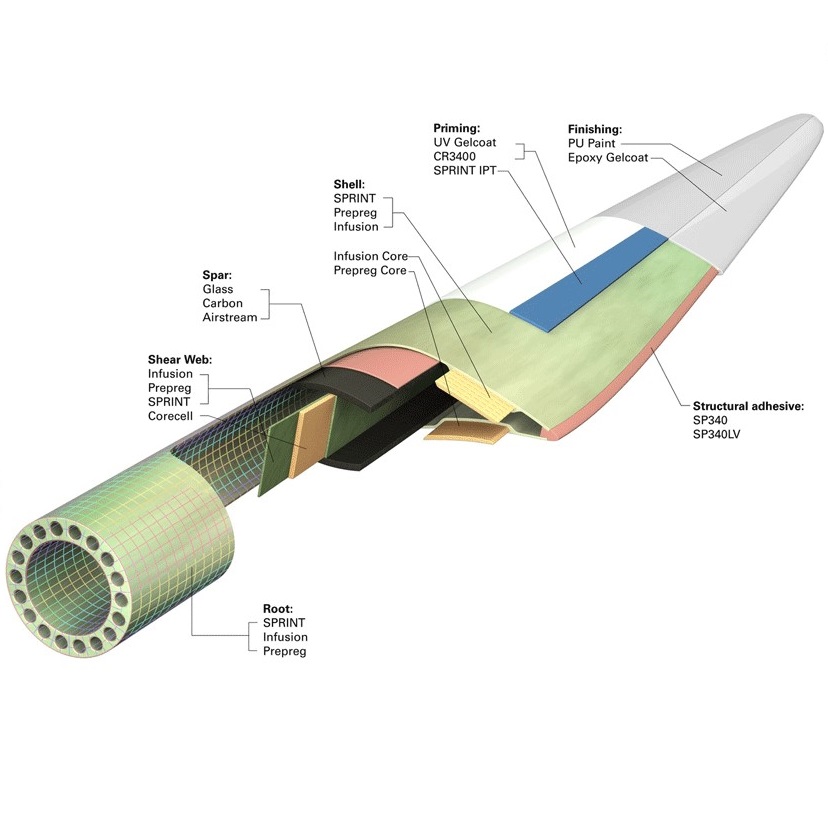 Today's greatest global challenge is the need for more affordable, reliable, clean and renewable sources of electricity: according to EUROSTAT [1], the greatest source of man-caused greenhouse gas emissions is fuel combustion, which mostly takes place in energy transformation, responsible for nearly 80% of all emissions in the EU.
The main goal of HEWiT project deals with the study and optimization of a wind turbine blade, considering different engineering standpoints, in order to enhance the wind turbine technology attractiveness in the energy market.
First, a stakeholder analysis was carried out in order to identify users' main requirements. The team performed an extensive survey of the state of the art pinpointing present-day solutions for wind energy exploitation, which is currently undergoing a substantial growth due to the support of governments and international institutions.
In this growing and dynamic context, the main challenge was to verify the structural feasibility once innovative composites materials and aerodynamic profiles were studied and developed.
The proposed material is made of a polymeric matrix, such as epoxy resin, for which both functionalized and non-functionalized carbon nanotubes (CNTs) proved to be effective fillers. After an optimization, ultrasound mixing showed several advantages with respect to mechanical one, such as a lower CNTs agglomeration and a greater amount of solution that could be prepared.
When the behavior of the material was fully characterized, the team delved deeper on modelling the turbine. Aerodynamics optimization of the blade showed that the three blades turbine operating, according to design conditions, could top more than 92% of the maximum theoretical efficiency. The static analyses on the defined structure displayed a maximum tip deflection in accordance to current regulations, likewise the dynamic behavior proved satisfactory at the design rotating speed. At this point, structural analyses were developed demonstrating the feasibility of the particular configuration, underlining the potential application of the product with innovative materials and aerodynamic profiles. All these preliminary technological studies were surrounded by a general life cycle assessment to evaluate the potential energetic and environmental impact of this technology.
Principal Academic Tutor
Jean-Marc Tulliani, Department of Applied Science and Technology (DISAT), Politecnico di Torino
Academic Tutors
Giacomo Frulla, Department of Mechanical and Aerospace Engineering (DIMEAS), Politecnico di Torino
Maria Pia Pedeferri, Department of Chemistry, Material and Chemical Engineering "Giulio Natta", Politecnico di Milano
Piero Gili, Department of Mechanical and Aerospace Engineering, Politecnico di Torino
Francesco Larocca, Department of Mechanical and Aerospace Engineering, Politecnico di Torino
External institutions
Sorel Wind Srl
Bosch Rexroth
External tutor
Salvatore D'Angelo, Retired Full Professor
Alfredo Sbarra, Sorel Wind Srl
Team members
Masoud Ahmadinia, Petroleum Engineering, Politecnico di Torino [Team Controller]
Serena Aleo, Materials Engineering and Nanotechnology, Politecnico di Milano
Gianluca Montanari, Mechanical Engineering, Politecnico di Torino & Aerospace Engineering, Politecnico di Torino
Alberto Oregio Catelan, Aeronautical Engineering, Politecnico di Milano & Aerospace Engineering, Politecnico di Torino
Edoardo Peradotto, Mechanical Engineering, Politecnico di Torino & Aerospace Engineering, Politecnico di Torino
Stefano Pisoni, Materials Engineering and Nanotechnology, Politecnico di Milano [Communication Coordinator]
Francesca Roberto, Aeronautical Engineering, Politecnico di Milano & Aerospace Engineering, Politecnico di Torino
Giorgia Scetta, Materials Engineering and Nanotechnology, Politecnico di Milano